Need a Certified and Trusted
Home Inspector in Your Corner?
Residential
Inspections
A full service home inspection following the InterNACHI standards of practice. Digital report with all concerns.
Mold
Inspections
A full assessment can help you determine if fungal spores are growing in your home! Test results normally available within 3-4 days of sample collection.
WDI
Inspections
Getting a wood destroying insect (WDI) inspection will help you determine if there are pests in your home. Report normally available within 24 hours.
Termite
Inspections
Termites can go unnoticed until they cause catastrophic damage to your home. Report normally available within 24 hours.
Radon
Testing
Radon is the 2nd leading cause of lung cancer in the US. Make sure you and your family are protected. Test results normally available within 3-4 days of the Radon test conclusion.
Premier Northeast Ohio Home Inspections
Your dream home is waiting for you! A home inspection goes beyond just identifying potential problems; it's a critical step towards ensuring you have complete peace of mind with your purchase. Don't let hidden issues or unexpected expenses dampen your excitement. Hiring a professional inspector can save you thousands of dollars and ensure you have a full understanding of any possible defects. A home inspection is more than just a task to check off your list; it's an investment in your future happiness and security. So go ahead and take that step – your dream home awaits!
What Does a Home Inspection Accomplish?
Discount to Military and First Responders
InterNACHI Certified Home Inspector
Banna Home and Property Inspections is a locally owned home inspection company offering various inspection services. Our goal is to carefully examine and ensure the safety of one of your most important investments, your home. Partner with us to alleviate the anxiety of buying a home by relying upon our professional inspection services.
Banna Home and Property Inspections is a Veteran Owned Business. After more than 20 years of serving the U.S. Navy, we are now focusing on serving your needs.
The
Best Modern Report
in the Industry​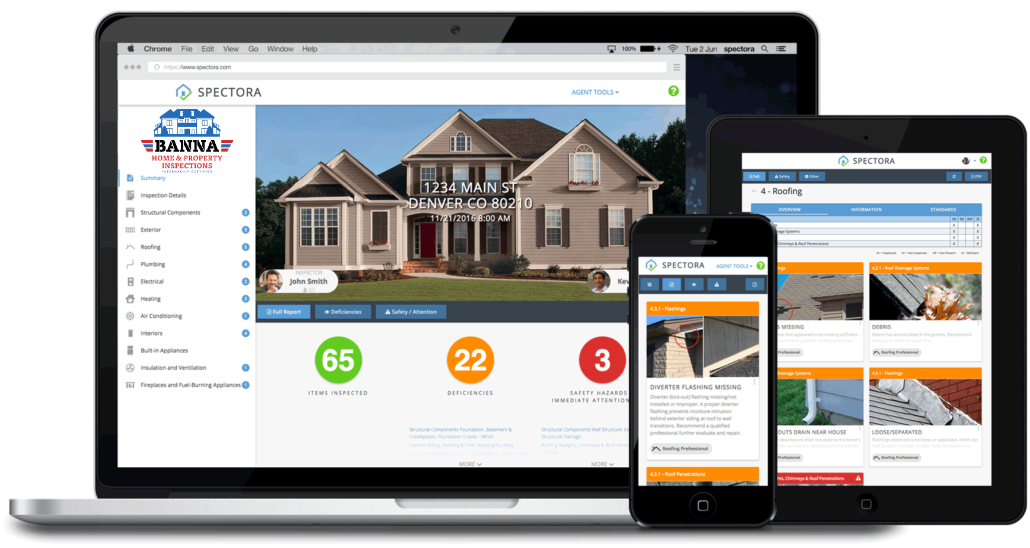 While Banna Home and Property Inspections encourages our clients to walk through the home with us, we understand that you may be too busy, and may not have time to do so.
Regardless of whether or not you attend the inspection, we will compile a comprehensive Spectora report, which includes all of the information you need to determine the condition of the home.
We will deliver the home inspection report within 24 hours of the conclusion of your home inspection so that you can quickly access a full overview of our findings – and discuss them with us and your agent. Radon and Mold testing results are normally available within 3-4 days after the inspection.
Frequently Asked Questions